09-23-12
Jewplexed: Kaporos Without Wings
In the days before Kol Nidre, in some corners of the Jewish community it is not a good time to be a chicken.
In the days before Kol Nidre, in some corners of the Jewish community it is not a good time to be a chicken, unless you are Luis Vasquez.
Last year, for the first time, Vasquez, who owns his own chicken costume, was hired by a Persian synagogue to promote their behind-the-storefront booth where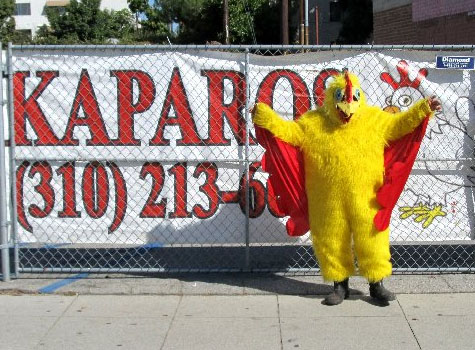 people were obtaining live chickens for the Kaporos ritual.
Standing on Pico Blvd. in the heart of Los Angeles' heavily Orthodox Pico-Robertson shopping and restaurant area, Vasquez flapped his yellow wings, in a costume usually seen at children's birthdays parties, in an attempt to flag down passersby.
His hire, no doubt was the result of the approaching Day of Atonement. The day before is when traditional Jews perform the Kaporos ritual which consists of swinging a live chicken above one's head while reciting a prayer. Kaporos means, "atonement," and the idea is that the sins of the swinger will be transferred to the chicken.
Following the ritual, the chicken is slaughtered by a shochet and sometimes donated. Many Traditional Jews, sensitive to the cruelty to animals charge leveled at the custom have largely abandoned the practice, and substitute money for the chicken.

Yet, the practice continues, and a group, the Alliance to End Chickens as Kaporos, is organizing rallies in Brooklyn on September 23 and 24, to "eliminate the 'swinging' and slaughtering of chickens in Kaporos ceremonies the week before Yom Kippur."

According to the organization, which "does not oppose Kaporos per se, only the cruel and unnecessary use of chickens in the ceremony," and has both Jewish and non-Jewish members.

"The use of chickens in Kaporos rituals is cruel and contrary to Jewish teachings."
According to the site "Chickens used in Kaporos rituals are trucked from factory farms to urban areas and held in transport crates for days without food, water or shelter."

According to the site, "Jewish author and educator, Dr. Richard Schwartz, has pointed out that using chickens for kapparot is inconsistent with the Torah prohibition of tsa'ar ba'alei chayim, which forbids the causing of unnecessary pain to living creatures."

I spoke with the organization's president, Karen Davis who related in detail that during previous Kaporos ceremonies in the Crown Heights area of Brooklyn that she has observed, people were casually talking while holding live chickens by their wings.

"The birds are in state of terror" said Davis who has a PhD and has written on the "Social Life of Chickens," and is a vegan.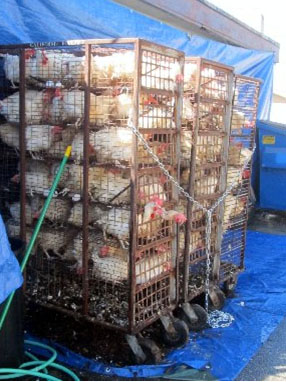 While working on this post, I received a tip that a stack of caged chickens were in an alley on Pico Blvd, in Los Angeles. The tipster, who lives nearby and only wanted to be known as "Bill," told me that the chickens were in the hot sun. The next morning, at the hour that I arrived, the cages, in an alley behind a storefront synagogue, were coming into the sun; a hose was nearby. The chickens, many looking bedraggled, were in low, tight cages, and I could hear a soft sound coming from them. "Last year I called animal services. But they wouldn't do anything," said Bill.
On holding live chickens by their wings, Orthodox Rabbi Yonassan Gershom, a Breslov Hasid, in his blog last year said, "Imagine somebody holding your arms behind your back and then suspending you by the elbows to get an idea of what this method would feel like," he wrote.
After the swinging ceremony, the shochet slits the chicken's throat, and contrary to giving the chickens to those in need, in nearby dumpsters Davis has found plastic bags of dead chickens.
The Alliance wants people to switch from swinging chickens to swinging money in a handkerchief, which can be donated afterwards.
Rabbi Shlomo Segal, Rabbi of Beth Shalom of Kings Bay in Brooklyn, feels that "The pain caused to the chickens in the process of performing Kaporos is absolutely unnecessary. Giving money is a more humane method," he said.
Last year, at the Kaporos ceremony that I observed, a few men were holding their chickens securely in their hands, in perhaps a less painful position as they moved them slowly left and right.
When I related this to Davis, who works at a Virginia Chicken Sanctuary, where while speaking with me she could observe her charges  peacefully going about "their earthy ways," her response was that there is no humane position for this observance, as it is part of the "ritual to absorb the practitioner's punishment as well as their sin," she said.
Back on Pico Blvd, Mr. Vasquez, raising the costume's head to speak more directly with me, would only describe the experience as "different." He otherwise hires himself out for birthdays and store openings and ever scratching for business, wrote down his phone number.

photos by Edmon J. Rodman
Edmon J. Rodman has written about making his own matzah for JTA, Jewish love music for the Jerusalem Post, yiddisheh legerdemain for the Los Angeles Jewish Journal, a Bernie Madoff Halloween mask for the Forward, and what really gets stuck in the La Brea Tar Pits for the Los Angeles Times. He has edited several Jewish population studies, and is one of the founders of the Movable Minyan, an over twenty-year-old chavura-size, independent congregation. He once designed a pop-up seder plate. In 2011 Rodman received a First Place Simon Rockower Award for "Excellence in Feature Writing" from the American Jewish Press Association."