Today in History, July 5:
1345: Pope Clement VI banned forced baptism of Jews. Subsequent Popes overturned this decree in 1597 and 1747.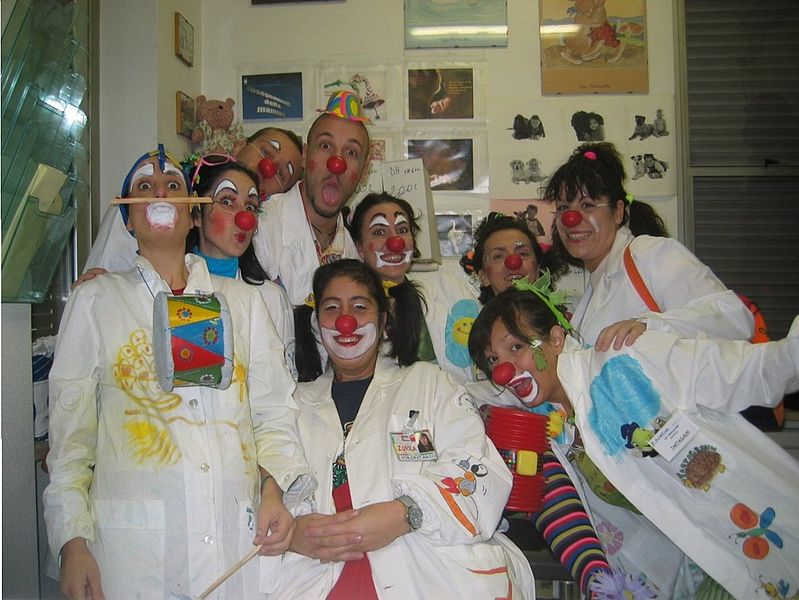 07-30-12
Medical Clowning Takes Off in Israel
Thirty clowns from all over the world spent two intensive weeks in Israel participating in workshops, classes and hospital visits.
Red noses, curly wigs and feather boas was the uniform for the students who came to Israel to study medical clowning this summer. Israel is the world's leader in medical clowning, where its University of Haifa offers the only full-time three year degree program.

Thirty clowns from all over the world spent two intensive weeks participating in workshops, classes and hospital visits. It was the First Advanced Medical Clowning International Summer Seminar.

"Medical clowning is completely different from regular clowning," Adi Citron, head of the university's theater department and one of the organizers of the seminar, told The Media Line. "It's not standing on stage and making a crowd laugh. It's an intimate and interactive experience. It's about using techniques like fantasy, parody, and playfulness to empower patients."

In Israel, clowns are even called-in during invasive medical procedures. Citron says that clowns have proven as effective as a sedative in helping to relax patients. The corps of 90 medical clowns working in 22 hospitals who are called "dream doctors," have been dispatched to disaster zones around the world when the need has arisen.

"You cease to be what you are outside the hospital," Citron said. "All of a sudden you're a patient, and everyone is focused on your sick part. The clown is there to work with your healthy part."

As the clowns got into costume, Fif Fernandes, President of the Canadian Association of Therapeutic Clowns, took a few minutes to remember one 8-year-old boy she visited every day for several months.

"I would come in and I would say, 'and who would you like to invite into the room today?' and he would say, 'the buddhas,' and I would fill the room with buddhas and we would just laugh,'" she told The Media Line. "Eventually, we got up to 17 minutes of laughing and his lungs began to clear, and soon he went home."

About a month later, as Fernandes was celebrating her birthday, she received a call from the hospital. The boy was back, and was not expected to make it through the night. She left her birthday dinner and went to the hospital where she held his hand and laughed, even though he couldn't respond.After the child died, his mother asked Fernandes to help conduct the funeral and to lead the mourners in laughing.

The star teacher of the seminar series was Michael Christensen, founder of the Big Apple Circus Clown Care Unit. Like many of the medical clowns, Christensen has personal experience with loss – in this case his brother, who died of pancreatic cancer. Christensen said the hospital environment presents unique challenges.

"Tell me some other place where you might be asked to juggle five balls in an intensive care unit [while standing] next to a heart monitor while keeping a comic patter going and making it look effortless," he told The Media Line.

The two-week program included workshops on "The Clown's Silhouette"; and "The Medical Clown in a Therapeutic Relationship: Meeting Patient and Family"; and "Medical Clowning in Disaster Zones."

Most of the clowns are experienced, but a few are just getting started. Barbara Grapstein, from Seacliff, New York, is a "laughter leader," and has come to Haifa to learn more about clowning.

"Laughter brought me back to life," she told The Media Line. "I went through almost a year of depression where I wouldn't get out of bed. I went online one day and found something called The World Laughter Tour. I want to help people laugh, not 'make them laugh' but 'help them.'"

Some of the participants, like Heimish Boyd, who is married to Fif Fernandes, have come to medical clowning from theater.

"When you force, or when you try to do too much, it is not authentic," he said. "It's learning all over again to be simple and authentic. Who you are and where you come from is more than enough."

Most of the participants have never been to Israel before. The seminar is a chance to see a country they have long heard about.

"This whole area is absolutely magnificent," he said. "I love it here, and I love the climate. It's not cold."

As part of the seminar, there were also visits to hospitals and a community center in Haifa. The idea was to do "guerilla clowning" --aning they would just start interacting with the crowd.

"I'm a little nervous, I have never actually done street work before," he said. "My background is in theater with a script, and a little more formal. This is a little scary for me."

But once the clowns began to interact with the children at the community center, all nervousness faded away.

One little girl lights up as she plays with the clowns. "They're gorgeous," said Chana Kuki, whose daughter Tefilaya was entranced. "They're doing a great job."

Tefilaya giggled as David Levitten, wearing a red nose and a big yellow bow tie, made faces at her.

"I think we can give an emotional lift to kids in the hospital because they have no control over anything," he told The Media Line. "We do routines where they can make choices and feel like they have more control."

Levitten should know. Until his retirement this year, he practiced internal medicine in Worcester, Massachusetts, and did some medical clowning on the side. Now he plans to take up clowning full-time.

"It gives me a chance to be a little child again – to do the things I'd like to do but felt too constricted to do," he told The Media Line. "I think there are times that clowns can help patients more than doctors."

by Linda Gradstein via The Media Line
Soul Food, July 5
It does not matter how slowly you go as long as you do not stop.-Confucius