Today in History, May 30:
70 – Siege of Jerusalem: Titus and his Roman legions breach the Second Wall of Jerusalem. Jewish defenders retreat to the First Wall. The Romans build a circumvallation, cutting down all trees within fifteen kilometres.
VIRTUAL JERUSALEM | www.virtualjerusalem.com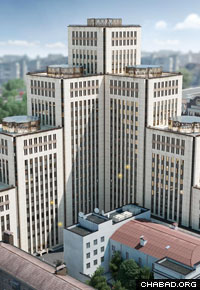 10-18-12
World's Largest Jewish Center Opens
The seven-towered 538,000 square foot Jewish community center opens to the public this Sunday with a 10-hour schedule of events.

The world's largest Jewish community center opens to the public this Sunday with a 10-hour schedule of events, but the buzz around the new Menorah Center in Dnepropetrovsk, Ukraine, is palpable following the private opening yesterday of its Jewish Memory and Holocaust Museum.

Built at a main intersection between the left and right banks of the Dnepr River, the seven-towered 538,000 square foot center was spearheaded by philanthropist Gennady Bogolubov, president of the local Jewish community and chairman of the Ukrainian Jewish Congress, and his Privat banking partner Igor Kolomoyskyy.

Designed by architect Alexander Sorin, the center will serve as a platform for the ongoing revival of the local Jewish community, which has been headquartered at the historic Golden Rose Synagogue under the direction of Chabad-Lubavitch Rabbi Shmuel Kamenetzki.

Tuesday's ceremony was attended by hundreds of guests from around the world, including spiritual leaders, politicians and academics. The museum's exhibits explain Jewish spiritual values and how they have influenced the world at large, and focus on Ukrainian Jewish history, the Holocaust and the revival of Jewish life since World War II.

With children from the local Ohr Avner Chabad Day School welcoming the guests, the ceremony began with a performance by cantor Yitzchak Meir Helfgot. Oleksandr Vilkul, chairman of the Dnepropetrovsk Regional State Administration, addressed the crowd, calling the opening of the Menorah Center a landmark event, not only on the scale of the Dnepropetrovsk region and the wider nation of Ukraine, but on a global level as well. Vilkul, who expressed deep gratitude to Bogolubov and Kolomoyskyy in building the center and museum, said it was no coincidence that the impressive center was built in one of the childhood hometowns of the Rebbe, Rabbi Menachem M. Schneerson, of righteous memory.

Kamenetzki, director of Chabad of Dnepropetrovsk, said that while in the past the city had been associated with suffering and persecution – the Rebbe's father, Rabbi Levi Yitzchak Schneerson, of righteous memory, was arrested and the Rebbe's brother and tens of thousands of other Jews were shot during a mass slaughter by Nazi forces – the whole world can witness a resurgence of the city's Jewish life.

Israeli Chief Rabbi Shlomo Amar and Israeli Diaspora Affairs Minister Yuli Edelstein joined Bogolubov, Kolomoyskyy, Vilkul and local Mayor Ivan Kulichenko in cutting the ceremonial red ribbon outside the center, while Amar affixed a mezuzah to the building's entryway.

As guests filed through the foyer at the building's southern entrance, Federation of Jewish Communities of the Former Soviet Union vice president Lev Leviev and Ukrainian Jewish Parliament president Vadim Rabinovich unveiled a plaque commemorating the center.
The Menorah Center's seven towers encompass 538,000 square feet of space. (Photo: djc.com.ua)

On the western side of the building, philanthropists Alan Green and Motti Korf unveiled another plaque, while Western Wall Chief Rabbi Shmuel Rabinovich of Jerusalem affixed a mezuzah to the hall's entrance.

According to the founders' vision, the museum "will become an important cultural and educational center that will give people new revelations, the light of knowledge and human feelings so much needed today."

One of its exhibits, "The Journey of the Children of Israel," tells the story of the Jewish diaspora through a collection of artwork by artists from all over the world. Organized by Israeli art galleries and supported by the Israeli Ministry of Diaspora Affairs, the Genesis Fund, and the Jewish Agency, the project began in Jerusalem and traveled to Germany before coming to the Menorah Center.

"Each artist reflects the history of the eternal wandering people of Israel through the lens of their personal experiences, emotions and excitement experienced in life," read a statement from the museum.

On Sunday, the whole center will open its doors to the public and offer everyone an opportunity to see the museum exhibits as well as old footage and photography, and fine and digital artwork. In addition to the museum, the center includes a synagogue and ritual bath, a luxury hotel, youth hostel, office space, kosher restaurants and halls, as well as a bookstore and classrooms.

One of the center's priorities is to use the profits from the businesses to fund charitable projects.

via chabad.org
Soul Food, May 30
One thing in the world, of value, is the active soul. -Ralph Waldo Emerson