HEADLINES
IDF Kills Hamas's "Military" Chief; IDF Begins Major Operation
Follow Virtual Jerusalem on
and


Date Posted: 2012-11-14 15:22:37

The IAF fired a missile at a car in Gaza Wednesday, killing the commander of Hamas's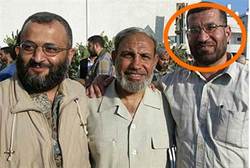 "military" terror wing, Ahmed Jaabari. Israel's TV Channel 2 says his son was also killed.
There are reports that Raed al-Atar, Commander of Hamas's southern division, has also been killed.
Hamas responded by saying that it was now in a state of "open war" with Israel with no date set for its end.
The IAF reportedly also struck targets in Khan Younes and Rafiah. Channel 2 said that the IAF has been striking launch silos for Hamas's longer-range Fajr rockets, which can hit central Israel, in order to preclude their use.
The IDF has begun a wide scale operation, which has been named "Amud Anan," or "Cloud Column," a phrase that refers to the column that led the Israelites in Sinai during the Exodus from Egypt.
Terror missiles have reportedly been fired at Sderot and Ashkelon. There have been no reports of casualties.
Egypt's response to the events is not yet known. Hamas is demanding that the "new Egypt" under Mohammed Morsi must withdraw from the Camp David accords with Israel and expel Israel's ambassador in Cairo.
Ahmed Jaabari was personally responsible for the abduction and holding of IDF Sgt. Gilad Shalit. Raed al-Atar was in charge of Hamas's smuggling tunnels.
Prime Minister Binyamin Netanyahu and Defense Minister Ehud Barak appear to have purposely diverted attention away from Gaza by visiting northern Israel and publicly discussing the Syrian threat Wednesday, in order to make it easier to catch the Hamas off guard.
The IDF Spokesman, Brig. Gen. Yoav Mordechai, announced on his Facebook page that "A harsh blow has landed upon Hamas's command and control array, as the IDF hit Ahmed Jaabari, the head of the military wing of Hamas in Gaza, who headed the organization and dealt directly with carrying out terror attacks against Israel.
"We are at the beginning of a wide scale attack, in view of the unbearable situation of the residents of the South," he added.
"The occupation has opened the gates of hell on itself," said a statement from Hamas's Ezzedine al-Qassam Brigades, which vowed its terrorists would "continue the path of resistance."
via israelnn.com