Today in History, May 28:
1990: Iraqi President Saddam Hussein opened a two-day Arab League summit in Baghdad with a keynote address in which he said if Israel were to deploy nuclear or chemical weapons against Arabs, Iraq would respond with "weapons of mass destruction."
VIRTUAL JERUSALEM | www.virtualjerusalem.com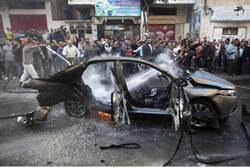 11-15-12
UPDATE: More Than 242 Rockets Fired at Southern Israel
Gaza-based terrorists fired a barrage of rockets at southern Israel's communities on Wednesday evening. 242 rockets were counted as having been fired at southern Israel as of 4:00 a.m.
Gaza-based terrorists fired a barrage of rockets at southern Israel's communities on Wednesday evening.

88 rockets were counted as having been fired at southern Israel as of 4:00 a.m. (local time) Thursday morning.

UPDATE: 242 rockets have been fired into southern Israel in the past 24 hours, according to statistics published Thursday night. Out of the 242 rockets, 156 were fired into the Negev.

The "Red Alert" siren was heard in Be'er Sheva shortly after 2:30 a.m. Two Grad missiles were then fired at the city. One of them was intercepted by the Iron

Dome anti-missile defense system and another exploded in an open area. There were no physical injuries.

Shortly before 3:00 a.m., another missile was fired at Be'er Sheva. It was intercepted by the Iron Dome system.

Iron Dome was able to intercept 20 of the rockets that were fired at Israel. In at least two cases, rockets hit populated areas in Ashdod and Be'er Sheva.
Damage was caused to a building in Ashdod and a parked vehicle in Be'er Sheva.

Magen David Adom paramedics treated 14 people, including two who suffered minor injuries from broken glass or from falling down stairs while rushing to shelters. 12 people were treated for shock.

Gaza terrorists also fired a rocket at Dimona, where Israel's nuclear reactor is located. The rocket fell wide of its mark and caused no casualties or damage. Channel 2 said this was the first time a terror rocket was fired at the sensitive site.

Rockets also hit Sderot, Ofakim, and communities in the Gaza Belt.

The Home Front Command announced Wednesday that following the security situation in the south and the beginning of the military operation 'Pillar of Defense' in Gaza, there will be no school Thursday for all school districts within 7-40 kilometers of Gaza.

In addition, for the safety of the population, a ban was placed on any large gatherings of 100 or more people. A ban was also placed on activities in shopping centers and all non-essential jobs will be closed.

via israelnn.com
Soul Food, May 28
The larger the island of knowledge, the longer the shoreline of wonder. -Ralph W. Sockman