HEADLINES
Four Israelis Die in Grad Rocket Attack on Kiryat Malachi
Follow Virtual Jerusalem on
and


Date Posted: 2012-11-15 09:50:24

A fourth person died as a result of the Grad rocket attack on Kiryat Malachi Thursday morning.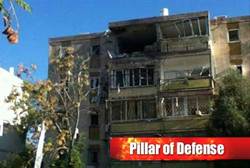 Three people were killed during or within minutes of the attack, and a fourth died several hours later at a hospital in Beersheva, after efforts to save the victim failed.
The four were two married couples in their 20s and 30s. Several other people were injured seriously and moderately in the attack, including two infants, one of them just eight months old.
The four were killed when a Grad rocket hit an apartment building in Kiryat Malachi. The dead were among a large group that had taken refuge in an old building that suffered a direct hit from a Grad rocket. Rescue teams were trying to remove victims of the attack from the rubble, and were preparing for the possibility of more casualties, Magen David Adom officials said.
Another Grad rocket was fired at Kiryat Malachi at about 10:30 AM Israel time. Reports said that an Iron Dome missile blasted the rocket in the air above the city, before it could land and explode. Police urged residents to remain indoors and under cover, even in the event that an Iron Dome missile prevents an attack, because shrapnel from the destroyed missile falling to the ground could still injure people. At least one person in Ashdod was injured when they were struck by shrapnel from a rocket that was destroyed by an Iron Dome missile.
A heavy barrage of Grad and Katyusha rockets was fired at the main population centers in southern Israel Thursday morning. Red Alert warnings were heard in Ashdod, Ashkelon, Kiryat Malachi, Beersheva, and Ofakim. Speaking live from Beersheva at around 8:00 AM Israel time, Israel Radio's correspondent counted at least a dozen missiles hitting in the area of the city. The IDF said that several of the rockets fired at Ashdod and Ashkelon were intercepted by the Iron Dome rocket interception system.
IDF officials expected the barrage to continue throughout Thursday morning, as Gazans prepare to bury Ahmed Jaabari, commander of Hamas's "military" terror wing, who was eliminated Wednesday night, takes place. The IDF was on alert throughout the country, saying that terror activity was likely to increase, with possible rioting by Arabs in PA controlled areas of Judea and Samaria, and a strong likelihood that terrorists would attempt to kidnap IDF soldiers or Israeli civilians.
The IDF eliminated three Hamas terrorists early Thursday, Israel Radio said, as Gaza Arab terrorists continued to hammer Israeli towns and villages with rockets. Several rockets were fired at the Be'ersheva and Ofakim areas on Thursday morning. The three were members of Hamas' military wing, the IDF said. Since midnight Wednesday, about 30 rockets were fired at Israeli targets, for a total of over 110 since the beginning of the Pillar of Defense operation Wednesday night.
The UN Security Council, at an emergency closed session, discussed the situation in Gaza without coming to any decisions. But during the meeting, U.S. Ambassador to the UN strongly defended Israel, saying that said there was no justification for the violence that "Hamas and other terrorist organizations" are aiming at Israel.
"We call on those responsible to stop these cowardly acts immediately," Rice said, adding that the rocket attacks were harming efforts to end the Middle East conflict and create a PA state. "Hamas claims to have the best interests of the Palestinian people at heart, yet it continues to engage in violence that does nothing but set back the Palestinian cause," said the US ambassador, who is considered a frontrunner to become the next US secretary of state. "Attacking Israel on a near daily basis does nothing to help Palestinians in Gaza nor to move the Palestinian people any closer to achieving self determination and independence," Rice said.
The IDF reported that it had destroyed dozens of rocket launching pads and hundreds of weapons in Gaza overnight, including many long-range missiles that Israeli officials fear could be fired at the Tel Aviv area. On Thursday morning, IDF planes dropped tens of thousands of flyers over Gaza cities and towns, warning civilians to stay away from Hamas terror bases and rocket-launching sites, lest they be caught up in an Israeli attack on a legitimate target.
via israelnn.com