Today in History, July 8:
2011: Dan Shapiro was sworn in as U.S. Ambassador to Israel by Secretary of State Hillary Clinton today.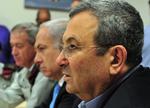 11-15-12
First Three Gaza Missiles Hit Tel Aviv
The first three Palestinian missiles reached the Tel Aviv conurbation, Gush Dan, Thursday night, Nov. 15. shortly after a long-range missile was confirmed to have exploded in Rishon Lezion southeast of Tel Aviv and sirens sounded in outlying towns of Holon, Ness Ziona, Gan Raveh and Beer Yacov.
The first three Palestinian missiles reached the Tel Aviv conurbation, Gush Dan, Thursday night, Nov. 15. shortly after a long-range missile was confirmed to have exploded in Rishon Lezion southeast of Tel Aviv and sirens sounded in outlying towns of Holon, Ness Ziona, Gan Raveh and Beer Yacov. None have yet reported casualties or damage. The Tel Aviv telephone network has stopped working. The IDF spokesmen reported that units of the elite paratroop and Givati Brigades were mustering outside the Gaza Strip on the second day of Israel's counter-terror operation Pillar of Cloud.

From debkafile's earlier report Thursday: As the rockets kept coming through Wednesday night – and the first three fatalities Thursday morning, Nov. 15 - the cautious lift in Israeli spirits generated by the death of Ahmed Jabari, who fashioned Hamas into a paramilitary machine of terror, and the destruction of dozens of missile sites in Gaza, gave way to resignation for a long haul before southern Israel is free of its decade-long rocket nightmare.

Thursday morning, a rocket from Gaza killed three Israelis in Kiryat Malachi. By then, some 120 rockets – mostly targeting the major towns of Beersheba and Ashdod, but also smaller locations – had followed Jabari's death. Iron Dome intercepted 27.The first reserve units had been mobilized for possible ground action in Gaza to supplement the air offensive against the Palestinian missile arsenal.

But Operation Pillar of Cloud's first part showed a favorable balance: Palestinian missile fire was as erratic as ever, although intense; Iron Dome filtered out the rockets aimed at Israel's major towns; Israeli casualties were relatively low though painful; and the enemy in Gaza was decapitated – for now.

But most of all, the Palestinians and their allies in Tehran and Hizballah suddenly discovered that the old IDF had come roaring back.

In the only former major Israeli operation in Gaza, Cast Lead (late 2008, early 2009), the IDF was slow, unwieldy and unfocused. Its counter-terror offensive was foreshortened by heavy diplomatic pressure before achieving anything, owing to the government's lack of resolve. In the 2006 Lebanon War, the army was stalled before developing an effective tactical offensive.

The IDF of 2012 is in a different class, recalling its rapid-fire performance in the Six-Day War then fought on multiple fronts.

In just a few hours late Wednesday, Nov. 14, Pillar of Cloud achieved more than Cast Lead managed in weeks: It was driven by clockwork, integrated intelligence by the Shin Bet and Military Intelligence, precise, surgical air force strikes and a command-and-control with fast reflexes which recalled Israel's military skills of 45 years ago.

The rapid destruction of scores of Fajr-3 and Fajr-5 rockets, whose respective ranges of 45 and 75 kilometers placed Israel's heartland in line of Palestinian strikes, compared with the destruction of the Egyptian air force on the ground in the early hours of the 1967 war, rather than the bombardment of Hizballah's long-range missiles in 2006 which failed to draw its sting.

In 1967, the Egyptian army had to fight in Sinai without air cover. In 2012, the Hamas rulers of the Gaza Strip were stripped of their key commander and terror strategist and lost substantial, though not all, its missile arsenal.

Wherever Operation Pillar of Cloud goes next – and the IDF is preparing for a long, hard haul – Prime Minister Binyamin Netanyahu, Defense Minister Ehud Barak and Chief of Staff Lt. Gen. Benny Gantz deserve kudos for their performance thus far.

It may be said that Israel's Gaza operation did in fact start on Oct. 24 in Sudan with the attack on the Yarmouk complex manufacturing Iranian missiles near Khartoum. Former Military Intelligence chief Amos Yadlin Wednesday confirmed debkafile's exclusive report that the factory had housed the emergency reserve stocks of the Palestinian Hamas and Jihad Islami in the Gaza Strip.
Its destruction contributed to their loss of infrastructure.

The tough part of the Israeli operation to eliminate the terrorist war peril hovering over southern Israel from the Gaza Strip is still to come. For now, Hamas is at a loss for a strategic answer to the IDF offensive – unless one is provided by Tehran or Hizballah coming to its rescue.

via debka.com
Soul Food, July 8
When I do good, I feel good. When I do bad, I feel bad. That's my religion.-Abraham Lincoln