Today in History, July 5:
1345: Pope Clement VI banned forced baptism of Jews. Subsequent Popes overturned this decree in 1597 and 1747.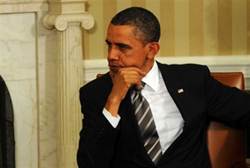 11-16-12
Obama Voices Support for Israeli Defense in Wake of Gaza Strikes
President Obama in calls to Israeli and Egyptian leaders backed Israel's right to self-defense as Israel's counterattacks on the Gaza Strip intensified.
President Obama in calls to Israeli and Egyptian leaders backed Israel's right to self-defense as Israel's counterattacks on the Gaza Strip intensified.

"The President reiterated to Prime Minister [Benjamin] Netanyahu the United States' support for Israel's right to self-defense in light of the barrage of rocket attacks being launched from Gaza against Israeli civilians," said a statement from the White House Wednesday night.

"The President urged Prime Minister Netanyahu to make every effort to avoid civilian casualties," the statement said. "The two agreed that Hamas needs to stop its attacks on Israel to allow the situation to de-escalate. The two leaders agreed to stay in close touch in the coming days."

The statement reported a similar conversation between Obama and Egyptian President Mohamed Morsi, who has condemned Israel's counterattack as "wanton aggression" and summoned home the Egyptian ambassador from Israel.

Morsi's Muslim Brotherhood movement has close ties to Hamas, the terrorist group that controls the Gaza Strip.

Hamas officials say the Israeli airstrikes on Wednesday killed eight, including an infant and a 7-year-old girl. As of Thursday, 15 Palestinians have been killed and more than 100 injured, according to the Palestinian Maan news agency.

The Israeli operation began Wednesday with the assassination of Ahmed Jabari, the head of Hamas' military wing, when a missile fired by the Israeli military struck the car in which he was driving.

The strikes came after four days of intensified rocket fire from Gaza, with at least 150 rockets landing inside Israel.

Rocket fire has continued since Israeli launched its strikes Wednesday afternoon, and Israel has moved infantry units to the South and called up reservists.

The U.N. Security Council heard presentations late Wednesday from the Israeli and Palestinian representatives in a closed emergency session on the outbreak.

via jta.org
Soul Food, July 5
It does not matter how slowly you go as long as you do not stop.-Confucius