Today in History, May 30:
70 – Siege of Jerusalem: Titus and his Roman legions breach the Second Wall of Jerusalem. Jewish defenders retreat to the First Wall. The Romans build a circumvallation, cutting down all trees within fifteen kilometres.
VIRTUAL JERUSALEM | www.virtualjerusalem.com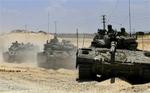 11-16-12
Israel Seals Off Main Roads Around Gaza
Israel on Friday evening sealed off all the main roads around Gaza, declaring them to be a closed military zone amid increasing signs that Israel is readying for a ground offensive.
Israel on Friday evening sealed off all the main roads around Gaza, declaring them to be a closed military zone amid increasing signs that Israel is readying for a ground offensive.

"There is a closed military zone in the area," a military spokesman told AFP, saying that road 232, route 10 and part of road 4 had been sealed off to all non-military traffic.

"These are the main routes around the Gaza Strip and they have been closed to traffic," he confirmed.

UPDATE: Israeli radio reports that alarms in Be'er Sheva and Ashdod have continued with high frequency into Friday evening Israel time.

via israelnn.com
Soul Food, May 30
One thing in the world, of value, is the active soul. -Ralph Waldo Emerson