Today in History, February 12:
1886: Ha-Yom, the first Hebrew daily newspaper was published in St. Petersburg
VIRTUAL JERUSALEM | www.virtualjerusalem.com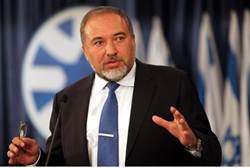 11-16-12
Lieberman to Hamas: Don't Test Us
"It is our duty to ensure peace and quiet to residents of the south," Lieberman told Channel 2 News. "It cannot be that a million people won't be allowed to lead a normal life, where children, instead of going to school, are in shelters and conduct their lives in accordance with the sirens. This cannot continue."
Foreign Minister Avigdor Lieberman issued a direct threat to Hamas on Friday, warning the terror group which controls Gaza not to test Israel's military capabilities.

"It is our duty to ensure peace and quiet to residents of the south," Lieberman told Channel 2 News. "It cannot be that a million people won't be allowed to lead a normal life, where children – instead of going to school – are in shelters and conduct their lives in accordance with the sirens. This cannot continue. Our goal is to restore calm."

"The government of Israel is in favor of peace and security for southern Israel's residents," added Lieberman, "and we'll do everything it takes to ensure this."

He said, "Palestinian Authority Chairman Mahmoud Abbas deals with political terror and Hamas deals with traditional terror by firing on residents of Israel. It's no coincidence that most of the rocket barrages are at eight in the morning, when kids are going to school and people are going to work."

"We need to understand that Abbas is now running away from his own failings in the domestic arena," said Lieberman. "He failed in everything pertaining to employment and financial management. His domestic failure brings an escalation in the political arena, that's exactly what he did."

Abbas's interview on Channel 2 News several weeks ago, said Lieberman, "was an attempt to provide ammunition for Arab parties and the Israeli left. Just two months earlier, Abbas spoke at the UN, where he accused Israel of ethnic cleansing, war crimes, theft of land, theft of natural resources. Suddenly, there he was, speaking about giving up the right of return, and of course the next day he denied it. Even Hamas was confident that because of the regime change in Egypt, because of the elections in Israel, we would not dare to respond the way we responded. I think both Hamas and Abbas are wrong, and we will certainly deal both with the political terror as well as the terrorism on the ground."

He said that Operation Pillar of Defense will end "when we achieve the three goals: peace, deterrence and elimination of long term terrorist tools. Then we will definitely stop the operation. Every time Hamas fires rockets, our response will be more and more difficult. Hamas tested us again and again, broke all the rules again and again and tried to produce a new reality. This operation was undertaken because of a lack of choice. It is not an adventure."

"I highly recommend that the Hamas leadership in Gaza not test us again," warned the Foreign Minister. "Never think that Israel will not respond with greater force next time. If, G-d forbid, there is a next time, we will respond with much greater force. Nobody over there is safe, not Hamas Prime Minister Haniyeh and not others."

via israelnn.com
Soul Food, February 12
"Friendship ... is born at the moment when one man says to another "What! You too? I thought that no one but myself . . ." ? C.S. Lewis