OFFBEAT
Haifa U Bans Public Events After Arabs Mourn Hamas Terrorist
Follow Virtual Jerusalem on
and


Date Posted: 2012-11-18 22:41:39

Haifa University has suspended all public extracurricular activity on campus, after Arab students held a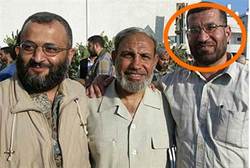 "memorial service" for Ahmed Jaabari, commander of Hamas's military terror wing, eliminated last Wednesday night. Arab students praised his actions and leadership, and condemned the IDF for "murdering" him.
The incident garnered loud criticism from many quarters, including Haifa Mayor Yonah Yahav, who wrote to Haifa University President Amos Shapira that the Arab students' activities "do not match the ideals of Haifa University, which strives for coexistence, tolerance, and communication. It is fine for institutions to adopt a policy of democratic exchange and freedom of speech for all groups and political stances. But the cynical use of this right to promote the ideology of a terror group that is dedicated to the murder of children and innocent civilians, is crossing a red line of humanity and good taste," Yahav wrote.
As a result of the criticism, Shapira issued a statement Sunday, saying that "because of recent events, and in order to prevent radical groups from taking advantage of the situation to cause provocations, I have decided to restrict public activity on campus."
With that, there was a demonstration on campus Sunday morning in support of IDF soldiers and residents of the south. Shapira himself was at the demonstration, which took place before he released the statement.

via israelnn.com