Today in History, October 5:
1854: Hermann Mayer Salomon Goldschmidt discovered a new asteroid, 32 Pomona.
VIRTUAL JERUSALEM | www.virtualjerusalem.com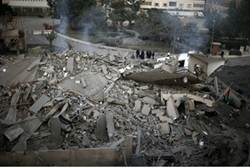 11-19-12
IDF Has Hit 1,110 Targets in Gaza
According to statistics released by the IDF, since the operation began last Wednesday, the IDF has attacked 1,110 targets in Gaza. The Iron Dome anti-missile system intercepted more than 35 rockets on Sunday, and a total of 280 since the operation began.
The IDF attacked more than 130 targets in Gaza on Sunday, as Operation Pillar of Defense continued. According to statistics released by the IDF, since the operation began last Wednesday, the IDF has attacked 1,110 targets in Gaza.

The Iron Dome anti-missile system intercepted more than 35 rockets on Sunday, and a total of 280 since the operation began.

Iron Dome intercepted two missiles fired from central Gaza at Tel Aviv at about 6:40 p.m. Sunday. One of the IDF's targets in Gaza was a launching pad from which missiles had been fired at Tel Aviv.

The anti-missile system also intercepted two missiles headed for Tel Aviv shortly after 10 a.m. Sunday morning. Another missile landed into the Mediterranean Sea. One person was lightly injured from missile intercept debris that fell on his car.
The Negev town of Ofakim came under heavy missile fire Sunday afternoon as part of a day-long barrage launched by Gaza terrorists at southern Israel.

A rocket scored a direct hit on a car, injuring one person seriously. Three others suffered light to moderate wounds. They received treatment from MDA and were evacuated to hospital.

On Sunday morning, a Hamas missile blasted through the roof of an apartment building in Ashkelon, wounding one person.
IDF Spokesman Brig. Gen. Yoav Mordechai said on Sunday evening that the IDF is continuing to deal heavy blows on the Hamas terrorist regime in Gaza.

"Hamas is using the population as human shields," he said. "Today we released a video documenting how they fire rockets from a courtyard of a mosque, houses of worship, public places and homes."

"No one is immune in Gaza," added Mordechai. "This is a lesson that will be learned over time. The IDF can reach any place and anyone."

via israelnn.com
Soul Food, October 5
If you do not change direction, you may end up where you are heading.-Lao Tzu